May 28, 2016
Help police nab campaign poster vandals, public urged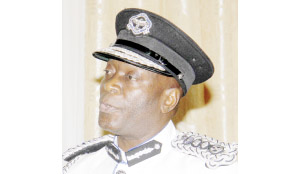 By SAM PHIRI –
INSPECTOR General of Police Kakoma Kanganja has called on members of the public to help the police bring to book culprits who are vandalising campaign posters.
Mr Kanganja said it was not only a criminal offence under the Electoral Act, but a menace to good democratic dispensation that Zambia enjoyed.
He said the police were not sitting idle but had intensified serious investigations into the matter.
"We are calling on anyone with information regarding the same to please report to the police since this is an offence that warrants prosecution," he said.
Some political campaign posters for the ruling Patriotic Front and the opposition United Party for National Development have been vandalised in most parts of Lusaka by suspected rival party members.
The Electoral Commission of Zambia (ECZ) has also called on the police and members of the public to help in bringing the culprits to book as the act was disturbing the free flow of the election campaigns.
ECZ spokesperson Cris Akufuna said political players should by now know that destroying of campaign materials or posters for rival groupings was a serious offence.