24 Jun 2016
White men who escaped racism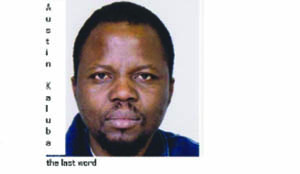 At the peak of nationalism in Zambia and regionally, many nationalists stirred hate sentiments against white settlers leading to widespread hatred against the colonisers who usually lived better lives far above that of Africans.
Among the most radical and anti-white nationalists in Zambia were the late Simon Mwansa Kapwepwe and Munukayumbwa Sipalo, the latter who at one time chillingly and blasphemously said 'if there is a white man who is always on the side of  whites against blacks, let that God vamoose!'
The speech made at a Chifubu rally somehow contributed to the murder of Lilian Burton a white Ndola housewife whose car was set ablaze by UNIP cadres on the Ndola Mufulira Road.
She sustained serious burns and later died in Ndola Central Hospital worsening the showdown between whites and blacks.
The face-off was largely hinged on the colour bar and shabby treatment of blacks whom whites considered as lesser beings closer to monkeys.
However, there were a few whites who escaped the stereotype of being condescending and racist.
Prominent among them were Madeleine Robertson, James Skinner and Sir Stewart Gore-Browne all who exhibited humanity traits that are universal.
Madeleine Robertson stood out from the white community as being different from the patronising disposition usually associated with whites.

During the Second World War, Madeleine worked in the Admiralty till her family emigrated to Northern Rhodesia in 1946 when her husband Jack obtained a company transfer to the Roan Selection Trust copper mine at Mufulira.

Within a short period of their arrival on the Copperbelt, Madeleine and Jack identified themselves with the hopes and aspirations of the African population.
In 1950 the couple hosted a meeting at their home at which they were introduced to a young zonk-haired teacher named Kenneth Kaunda.

And so it was there that the future Zambian President came to know Madeleine well, phoning her on the eve of Independence to ask if she would be one of his nominated Members of Parliament.

Madeleine Robertson gave great public service to the people of Zambia and was supported by Jack in everything she did.
She was the only person to be re-nominated to Parliament and to serve a second term of five years – a great tribute to her popularity and integrity.
Madeleine was a champion of the ordinary people and fought many battles in Parliament on their behalf, often incurring the wrath of ministers who had other priorities.
She is also on record for lambasting African politicians who divorced their uneducated wives for 'sophiscated' women whom they paraded at cocktails and other high class functions.
She was always fearless in the defence of what she believed was right. Her spirit and courage in defending the rights of women and children were a source of great admiration to everyone who knew her.
Through her friendship with Diana Garner, Madeleine closely followed the establishment of Musikili Primary School – on one memorable occasion inspecting building progress by cycling around the site.
However, she did not live to see the school completed, but she did anticipate the excellent facilities for some 160 multi-racial pupils, and the impressively high standard of education that they were to receive.

Another white man who was ostracised by his kind for helping Africans was James John Skinner who was born on July 24,1923 and died on October 21, 2008.
Skinner, an Irish-born Zambian politician and jurist became the first Minister of Justice of independent Zambia  and the only white member of Zambia's first Cabinet.
Following his time as a Zambian jurist, Skinner moved to neighbouring Malawi , where he was Chief Justice from 1970 to 1985.
His final judicial appointment was as a Social Security Commissioner in England from 1986 to 1996.
After studying at Trinity College, Skinner was called to the King's Inns in 1946 and to the English Bar at Gray's Inn  in 1950 and practised in the Leinster Circuit from 1946 to 1951.
In 1951, Skinner emigrated to Northern Rhodesia  where he was called to the Bar of Northern Rhodesia in 1951.
He quickly earned himself a reputation as a defender of African rights, an interest that led him to join the United National Independence Party  (UNIP) in 1960 quickly becoming the party's legal advisor.
Since these were days when blacks were called racist and demeaning names like baboon, monkey or bobojan, it was daring for a white man to associate himself with blacks.
Ostracised by most white residents of the colony, Skinner lost in his bid for a seat in the pre-independence parliament in the 1962 general election .
Sir Gore-Browne was among the few white settlers to be given a state funeral at a time when relationships between blacks and whites were strained.
Gore-Browne sympathised with black nationalists and helped to groom Kenneth Kaunda for presidency.

He is now remembered by the massive English manor at Shiwa Ng'andu in Chinsali which is now a tourist attraction.
He was born in London, England with his paternal grandfather being Sir Thomas Gore Browne, who had been governor of New Zealand and Tasmania. His paternal aunt was Ethel Locke-King.
He came to Northern Rhodesia in 1911 as part of an Anglo-Belgian boundary commission.

From his boyhood, Gore-Browne had an ambition to own an estate but though comparatively wealthy, knew that he could not afford much land in Britain.
During the First World War, Gore-Browne was sent to the Western Front, where he reached the rank of Lt.-Colonel and was awarded the Distinguished Service Order (DSO).
In 1920 he retired from the army and returned to Northern Rhodesia to settle at Shiwa Ng'andu and build his estate.
He often frightened his workers with an explosive anger which earned him a nickname Chipembele (Rhinoceros), a name which had originally been given to him when he shot a rhinoceros at Shiwa Ng'andu, but was later used to refer to his temper.
Gore-Browne's political career began in 1935, when he was elected to Northern Rhodesia's Legislative Council. Gore-Browne represented one of seven constituencies of voters.
He argued for the interdependence of "white and black" prosperity. Unlike other white politicians, such as his friend Roy Welensky, a trade union leader, Gore-Browne felt no threat from African social and educational advance, and the consequent Shiwa Ng'andu addition of qualified voters to the electoral roll.
From 1938 to 1951, he was nominated to represent African interests in the legislative council, for which he was knighted in 1945.
In the Legislative Council, Gore-Browne soon became a power in the land which helped set the stage for Northern Rhodesia.

Stewart Gore-Browne was more closely attuned to African thinking than the colonial administration explaining why he enjoyed great respect and trust of Africans.
He continued to advise the African National Congress under his early protégé, Harry Nkumbula and later, after the breakaway, the United National Independence party (UNIP), under his close friend, Kenneth Kaunda.
Gore-Browne spent most of his later years at Shiwa Ng'andu, where he replaced citrus crops with cattle.
However, he remained actively interested in politics.

When, in 1953, the Federation of Rhodesia and Nyasaland was imposed against the wishes of some local settlers and urban Africans, Gore-Browne opposed it because he felt that it was based on the discredited the idea of 'partnership'.
By 1960 he was committed to African majority rule, and was friendly with Kenneth Kaunda, leader of the UNIP.

In the general election of 1962, Gore-Browne stood under the UNIP ticket but failed to win enough white votes to qualify.
In 1964 he was an honoured guest at Zambia's independence ceremonies in Lusaka.
He died from pneumonia at Kasama Hospital, Zambia, on August 1967 and was buried at Shiwa Ng'andu two days later in Zambia's only state funeral for a white person.
Kenneth Kaunda, then President of Zambia, gave a stirring eulogy.
Apart from Gore Browne who has a street named after him, the other two have been poorly honoured.
The Law Association of Zambia should name some legal award or street near high court after James Skinner.
After all there are whites and blacks who cannot be pigeonholed in racial stereotypes that characterise the relationship between the two races.