28 Jun 2017
KCM to raise copper production
By JAMES MUYANWA -
KONKOLA Copper Mine (KCM), a leading Zambian integrated copper producer, targets to raise copper production by as much as three to four folds from the current levels of around 100,000 tonne per year.
Buoyed by the planned additional injection of $1 billion by the major shareholders, London Stock Exchange-listed, Vedanta Resources, KCM now seems set to increase its production even quadrupling the current production levels.
KCM chief executive officer, Steven Din said in an interview in Lusaka that the mining house was set to increase production level exponentially in the next three years.
In March this year, Vedanta Resources chairperson Anil Agrawal announced the company would invest $1 billion in the KCM which would create 7,000 jobs.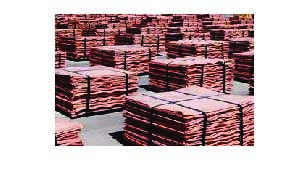 This was after Mr Agrawal met President Edgar Lungu. Vedanta has 79.4 per cent stake in KCM while the Zambian government, through the ZCCM Investment Holdings, has 20.6 per cent.
Mr Din said that the major contribution of the increase would be from Konkola underground mine in Chililabombwe where KCM is targeting to increase output by as much as 300 per cent in three years.
Other increases would be accounted for by the Nchanga mine where production is expected to be ramped up.
The company restarted operations at its Nchanga mine that was halted more than 18 months ago after copper prices plummeted. KCM will also double output in the next 12 to 18 months at its tailings leach plant that extracts copper from old waste dumps.
KCM is now targeting to scale up total production to 400,000 tonnes within three years, an amount the Vedanta chief said in April could take as many as seven years.
Mr Din said that the future of the mine in the next 50 years was bright and that it would continue contributing to the economy of the Copperbelt Province and the nation.
When asked whether KCM was liability or an asset to Zambia, he said that the mining entity was a valuable asset whose absence could greatly distort the economic landscape of both Copperbelt and Zambia.