23 Jun 2017
'Increase mining sector contribution to GDP'
By JUDITH NAMUTOWE -
VICE-PRESIDENT Inonge Wina has directed the Ministry of Mines and the Zambia Chamber of Mines (ZCM) to work towards increasing the mining sector's contribution to the Gross Domestic Produce (GDP) from the current 12 per cent to around 40 per cent.
Zambia has a long history of mining and has a large known resource base of copper, emeralds and other minerals. The sector accounts for 12 per cent of Zambia's GDP and more than 78 per cent of exports.
Ms Wina said this when she officiated at the 7th Zambia International Mining and Energy Conference (ZIMEC) in Lusaka yesterday.
"I would like to challenge the minister of Mines and the president of ZCM, that we would like to see the contribution of the mining sector to increase from the current 12 per cent to at least 40 per cent of the GDP. The sector is a significant source of the Government's revenue, both direct and indirect," she said.
Ms Wina said the Government was concerned that, despite the good prospects, mining had not delivered the desired development outcome that Zambia needed.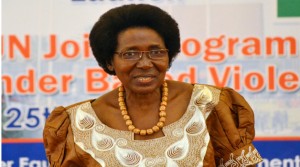 She said this was attributed to overdependence on copper and the inability to fully integrate the mining sector into national growth.
"I will be quick to point out that despite the setback, the mining sector proved resilient and continued to register positive growth. Copper production is poised to continue increasing owing to the expansion projects at existing mines and Greenfield projects that are ongoing," the Vice-President said.
She said this year's conference theme was appropriate as the country was rebounding from the shocks of low commodity prices on the international market resulting in slow growth of the economy.
Ms Wina, however, said it was an indisputable fact that for the foreseeable future, mining would continue to play an important role in Zambia's growth agenda, while the energy sector, on the other hand, would remain the lifeline of the economy.
She said it was imperative that stakeholders at the conference highlighted the strategies that would continue to promote the growth of the two sectors.
Ms Wina also said an independent study would soon be conducted to review the current structure of the electricity supply industry to create competitiveness that would promote efficiency and effectiveness.
The study will further target to achieve the goals enshrined in the Energy Policy, the Seventh National Development Plan (7NDP) and the Vision 2030.
Mines Minister Christopher Yaluma called for skills development in the mining industry.
"We are not saying we can't rely on expatriates. We will rely on expatriates as much as we try to develop the skills we need to run the mines," the minister said.